About
Love + Craft Kitchen
and Chef Susan Denzer
Love + Craft Kitchen is a boutique cooking class and recipe development business founded by Chef Susan Denzer. My mission is to support food businesses and home cooks in creating delicious, flavorful food products and meals using quality ingredients that support a healthier lifestyle.
"You don't have to cook fancy or complicated masterpieces –
just good food from fresh ingredients."
– Julia Child
ABOUT THE CHEF
I like to say that it all started with an Easy Bake Oven! At an early age, a passion for cooking and baking developed within me, and that passion has never faded. Whether cooking alongside my mother or grandmother, or aunt, or trying a recipe on my own, cooking was a creative way in which I expressed love and care for others.
Professionally, I have an MAEd in Education and am formally trained in Culinary Arts. I spent many years as a classroom teacher, corporate training leader, and in various restaurant, catering, and culinary director positions. I am a ServSafe Certified Food Manager and regularly attend culinary and health and wellness classes, workshops, and conferences. It is my goal to share my experience and expertise with others in a fun, relaxed, and encouraging manner.
In the ever-changing world of dietary advice, I take a general "less processed" approach to cooking. My focus is on selecting good quality ingredients – vegetables, fruit, proteins, whole grains, legumes, healthier fats, herbs, and spices – to create delicious meals and food products that make dining enjoyable.
Cooking is truly a significant part of my lifestyle along with –
trying new restaurants
checking out farmers' markets and specialty food stores
sharing meals with my husband, family, and friends
meeting new people and making connections
attending social and cultural events
gardening
reading
taking long power walks, hikes, and biking
refreshing my soul with time by the ocean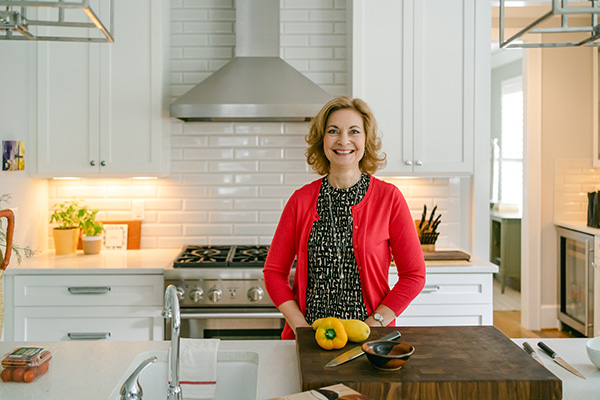 Individuals
Singles
Couples
Families
Friends

Businesses
Corporations
Small Businesses
Food and Kitchen Equipment Brands
Specialty Food Entrepreneurs
Bed & Breakfasts
Restaurants and Cafes

Organizations
Community Groups
Clubs
Health & Wellness Groups
Nonprofits