Enjoy this flavorful and modern take on traditional cream of asparagus soup! The sweet potato and fennel amp up the nutrient value and depth of flavor while pairing well with the brightness of the herbs. Serve it as a side dish or enjoy it as the main course with a drizzle of olive, nut or seed oil and a sprinkling of pepitas, asparagus tips or fresh herbs.
This recipe may be prepared ahead and refrigerated for up to 5 days, or frozen without the half & half or coconut milk for up to 3 months.  When thawed, gently heat and add the milk.
Makes: 6 – 1 1/2 cup servings
INGREDIENTS
2 tablespoons olive oil
1 cup onion (4 – 4 1/2 ounces), diced
1 1/2 cups fennel bulb (5 1/2 – 6 ounces), diced
2 – 2 1/4 cups (10 ounces) sweet potato, diced
1-pound asparagus, cleaned, trimmed, diced
2 teaspoons minced fresh garlic
1 cup white wine or apple cider
1 teaspoon dry mustard
1 teaspoon dried basil
1/2 teaspoon dried parsley
1/4 teaspoon dried dill
1/4 teaspoon dried tarragon
1/2 teaspoon kosher salt
1/4 teaspoon black pepper
6 cups chicken or vegetable stock or broth
1 bay leaf
1 cup half & half, canned coconut milk or refrigerated almond or oat milk
DIRECTIONS
In a heavy-bottomed stock pot, heat the oil over medium heat. Add the onion, fennel, sweet potato, and asparagus. Saute until softened, about 5 – 7 minutes.
Add the garlic. Continue to saute for about 30 seconds more, until the garlic is fragrant but not brown.
Add the wine or apple cider and deglaze the pan by scraping up the bits on the bottom.
Sprinkle the mustard, basil, parsley, dill, tarragon, salt, and pepper on top of the sauteed vegetables; stir to coat and cook for 30 seconds longer.
Add the stock and bay leaf, bring to a low boil, then reduce heat to a gentle simmer. Cover and simmer for 40 – 50 minutes, until asparagus stems are very soft when poked with a fork.  If not fully soft, add another 5 – 10 minutes of cooking time.
Remove pot from heat. Remove the bay leaf and discard.  Puree the soup smooth by either transferring it to a blender or keeping it in a stock pot and using a hand-held immersion blender.  Return to stock pot.
Stir in the half & half or other milk.  Place over medium-low heat, allowing to heat through, for about 2 – 3 minutes.  (Do not boil.)
Serve immediately, or cool, cover, and refrigerate for later use. Garnish with your choice of – chopped fennel fronds, trimmed asparagus tips, a drizzle of good quality olive or nut/seed oil, roasted pepitas, or chopped parsley.

© 2018 Love + Craft Kitchen, LLC, All Rights Reserved
Main photo: Love+Craft Kitchen, LLC
Summary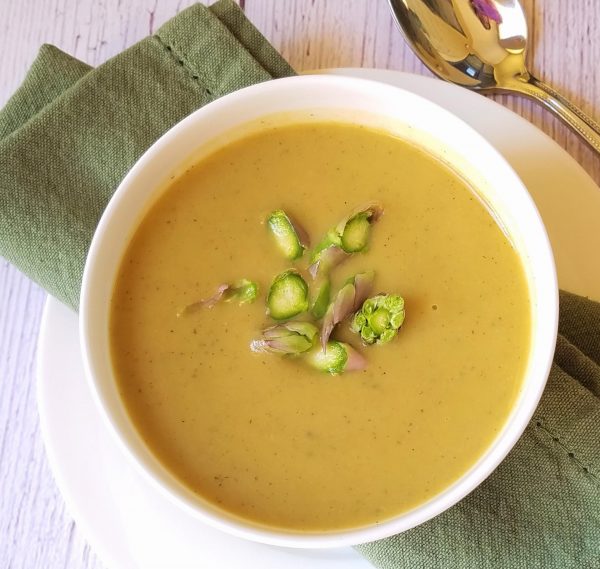 Recipe Name
Cream of Asparagus-Sweet Potato Soup
Author Name
Published On