Creamy Sunflower Seed Butter Dipping Sauce
This creamy sunflower seed butter dipping sauce will quickly become a new favorite! It is a flavorful, versatile, modern take on Thai peanut sauce with no added sugar and lower sodium. And, since it is made with seed butter, those with peanut or tree-nut allergies should be able to enjoy it. For variety, try a different seed or nut butter in place of the sunflower seed butter.
Uses:
as an accompaniment for fresh spring rolls or summer rolls
drizzle it over an Asian-inspired bowl, tacos or taco bowl
use as a dip for skewers or satay, veggies or fresh fruit
toss it with hot-cooked noodles, vegetables, tofu, chicken or pork
use as a dressing for a cold veggie, noodle or grain salad
… the possibilities are endless
NOTE: Using fresh, raw garlic gives a more pronounced garlic flavor; using dried garlic powder softens the garlic flavor.
Makes: 2/3 cup sauce
INGREDIENTS
1/3 cup sunflower seed butter, smooth or crunchy (no added sugar)
1/3 cup coconut or oat milk (no added sugar)
1 clove garlic, pressed or finely minced (or 1/8 teaspoon dried garlic powder)
1 tablespoon lime juice
1 tablespoon Worcestershire sauce or coconut aminos (low sodium versions)
2 teaspoons sesame oil
1 teaspoon white balsamic or rice vinegar
1/4 teaspoon red pepper flakes (optional)
DIRECTIONS
Place all ingredients into a medium-sized mixing bowl. Whisk together until smooth and well combined.
Cover and refrigerate the sauce for at least 30 minutes to allow flavors to blend. Stir, then serve.
Store unused sauce in a covered container in the refrigerator for up to one week.

© 2017 Love + Craft Kitchen, LLC, All Rights Reserved
Main photo: Love + Craft Kitchen, LLC
Summary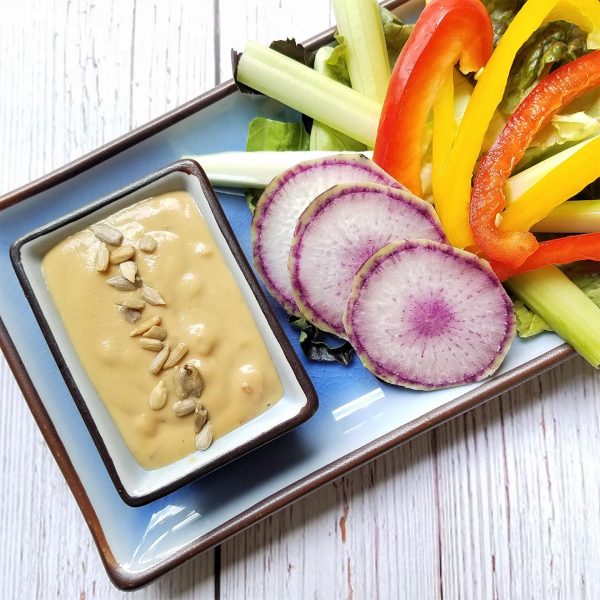 Recipe Name
Creamy Sunflower Seed Butter Dipping Sauce
Author Name
Published On