5 Fun Spice Blends
Live life with a little spice.
— Anonymous
We can all use a little help in the kitchen from time to time! For as much as I enjoy mixing herbs and spices to create wonderful flavor profiles for my recipes, I LOVE having pre-made spice blends at the ready for those times when I need to pull dinner together quickly.
There are so many herb and spice blends available and I regularly stop into shops or order from online sources to try them out. My mission always is to find those that are high quality, flavorful, versatile, and widely available in grocery stores or easy to order. I am particularly interested in blends that have no or low-added sugar, and are low in sodium or salt-free.
When using herb and spice blends, think outside the box – "butchers blend" or "smokehouse rub" have more uses than simply rubbing on a roast or ribs. I sprinkle blends over meats, seafood, vegetables, and eggs, or add them to soups, stews, sheet pan dinners, marinades, vinaigrettes, and sauces.
Here are 5 fun spice blends I know, like, and want to share with you.
Carne Asada
Al Pastor
Pescado Verde 
My friend and culinary colleague, Chef Belinda Smith-Sullivan, has a wonderful line of spice blends – from Everyday Spice Blend to Greek Spice Blend to Turkish Blend and more. If you live in the South, you may find her blends in various grocery stores, otherwise, they can be ordered online HERE.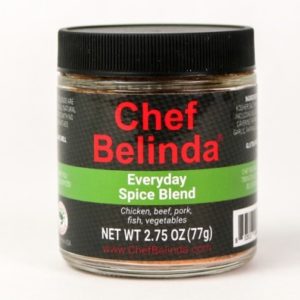 SHARE
There are so many more to uncover so I'll keep you posted! Feel free to share your favorite finds in the comments section. I'd love to hear!

Main photo by Calum Lewis on Unsplash